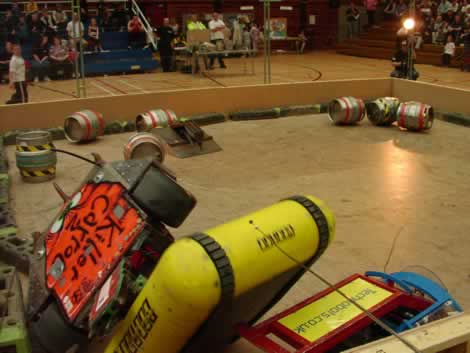 This was an Excellent day out. 2 shows to a thousand excited children. We had bouts of 4 in a ring, and suprisingly drew both of ours with Gooroo. The best fun was to be had later in the grand melee though... 10 robots in a ring the size of a postage stamp!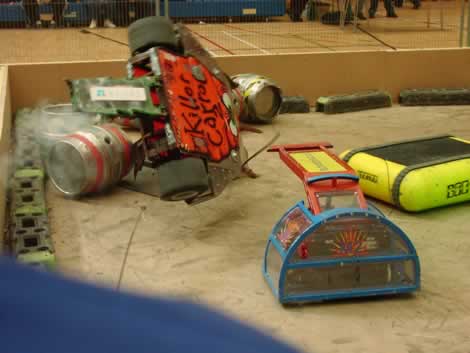 And we survived, only loosing our aerial! In fact only Axe Awe ceased to function by the end, and lay upside down in the ring. I really must get round to fitting our big regulator! We now have our prototype control board built by the Dominator 2 boys, and it's fitted and working well. Report ASAP! These shots show the afternoons grand finale... Clearest from the second shot, thats Killer Carrot 2, Tornado, Bulldog Breed, Dantomkia, Axe Awe, Hells Teeth, Gooroo, and Humphrey, not forgetting Comengetorix and Bigger Brother... Phew what a ring full.
We took full power axe blows from Axe Awe, which dented our 6mm ally plate armour, but didn't go through! Just need to make sure were underweight and We have a winner!