Diced carrot is our little baby. designed to fight in the antweight class with a weight limit of 150g. It is powered by two adapted Hi tec HS81 servos each weighing 13g controlled by a webra 6 channel nano-receiver which weighs 16g.
Build diary last updated: 15/5/2002
15/5/2002: Well we have 2 new antweights now. DC2 and DC3 are modifications on the original theme. DC2 is a design in aluminium, usually this would not be allowed in antweight circles, but as the entire body is structural ly part of the flipper and doesn't act as armour, it's ok. DC2 has 2 tiny drive servos, HS 50's, a larger hs81mg pushing down the flipper, and another smaller servo as the latch. When armed the flipper can be driven under opposing bots and chuck them in the air. At Modelworld 2002 it faired well, only getting stopped in the end by Buzzant cutting through all the exposed wiring. It won a fair few fights, but I have yet to repair it, spending too much time on Heavyweights.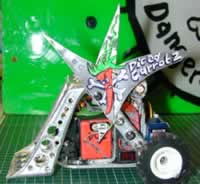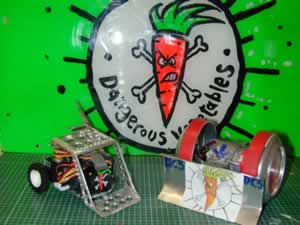 DC3 as seen in the above shot has extra large can end wheels, with super grippy arrow puller material stuck on. These wheels were swapped for wheels from Dom's duplo as they gave much more push, in fact in the revised set up DC3 proved unbeatable at modelworld 2002, shoving all comers out of the arena, until one of the servos began to stick. Sadly I haven't had time to fix it yet, but I will get round to it over the Summer.
28/10/2000 After months of fiddling we finally took our baby for a scrap, at the Antweight World Series at Guilford University. For a full run down check out he comms section on the Dangerous machines website. Suffice to say, I was sick and suffering after a painful Judo injury, and the kids were a bit bored, but we had a successful morning. We had 3 fights and lost them all! But did manage to hurl another robot off the arena. We learnt a lot and new plans for more voltage (6v), smaller wheels with more grip, and a slightly more dangerous weapon are all underway.
No photos as the digital camera was on strike and I foolishly left the normal camera behind. Check out the http://www.robotwars101.co.uk site for all antweight details.
Offered my services to design a Tee shirt for the event, and there have been many suggestions. Here's the first draft, all comments and alternative designs welcome. I think either Pete Collier or Hairy Steve will be organising the thing.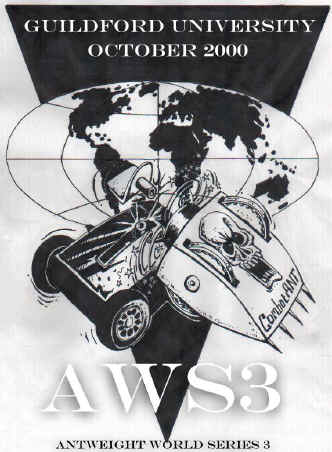 16/9/2000 We gave up on the flexinol, it will return in next years ant, (a walker), as we've got about 4 metres of the stuff.
So the flipper axe is now a boring servo actuated affair made from an old packing tape dispenser. The servo itself is a Hi tec HS81MG (metal geared), which was slightly more expensive than standard, but should prevent the gear skipping problems we've had with the drive servos: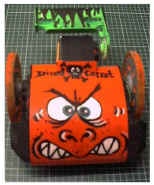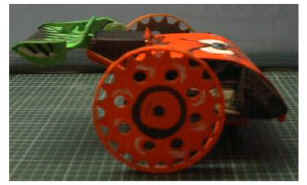 All that remains is to add scapel blades to every available surface up to the weight limit, we've got plenty of leeway as were still only on 126g and because of the 4" cube rule, we've had to truncate the body a little.
It all seems to work though I can't drive it to save my life, same problem I had driving Killer Carrot at Robot Mayhem, over sensitive tank steer. Hopefully we'll be at Antwars 3, in Guildford on the 22nd and I'll let the kids drive it.
23/09/2000 Well the SMA axe is proving to be very difficult. In theory the flexinol requires 400mA, and gives a contraction of about 5%, the problem is fixing the ends, soldering de-natures the wires abilities and clamping is a nightmare.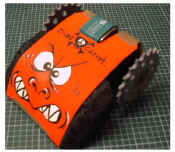 So we're looking at another servo to power a rear flipper/ax/SREMECH, though the liitle guy runs upside down fine. We've got plenty of weight left, as we're only upto 104g so far.
The wheels are now sporting rubber bands for improved grip too.
Adam and his friend Duncan have been practicing driving the little guy , so hopefully he will be team captain for the Antweight wars in October.
I can smell victory.
History: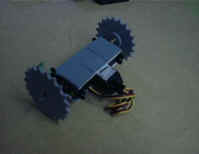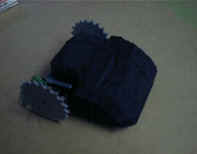 A 4.8v NiMh PCB mount battery provides the juice and at present were working on a shape memory alloy powered axe, which weighs almost nothing, but we keep frying the wire, so for simplicity we may just bung another servo in there.
Chassis is now made from an old Rotring pen case, with packing foam armour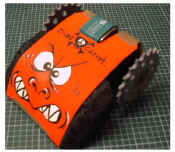 First outing should be the world championships at Guilford on October 29th 2000